1.1 Introduction
The Govt. of India has decided to implement the Central Sector Scheme, "Survey of Villages And Mapping with Improvised Technology in Village Areas" (SVAMITVA). The Scheme aims to provide and integrated property validation solution for rural India. The demarcation of abadi areas would be done using Drone Surveying Technology, with the collaborative efforts of the Ministry of Panchayati Raj Department, State Panchayati Raj Department, State Revenue Departments and Survey of India.
This would provide the 'Record of Rights' to village household owners possessing houses in inhabited rural areas in villages which, in turn, would enable them to use their property as a financial asset for taking loans and other financial benefits from Banks. Further, this would also enable updation of property and asset register to strengthen tax collection and demand assessment process of Gram Panchayats in States where Property tax is devolved to the Gram Panchayats.
Apart from demarcation of individual rural property, other Gram Panchayat and community assets like village roads, ponds, canals, open spaces, school, Anganwadi, health sub-centres, etc. would also be surveyed and GIS maps would be created. Further, this GIS maps and spatial database would also help in preparation of accurate work estimates for various works undertaken by Gram Panchayats and other Departments of State Government. These can also be used to prepare better-quality Gram Panchayat Development Plan (GPDP).
1.2 Need for the Scheme
Survey of rural land in India for settlement and record of rights had last been completed many decades back and moreover, ABADI (inhabited) area of villages were not surveyed/ mapped in most States. Hence, in the absence of a legal document, the owner of the property in the rural habitations are not able to leverage their own property as a financial asset acceptable by the banks for the purpose of providing loans and other financial assistance. In order to provide the legal right of the property to the household owner in a time transparent and cost-effective manner, there is a need of latest Drone Technology and Continuous Operating Reference Station (CORS) technology for capturing images.
Such maps provide a visual aid to the landowners as well as to the revenue officials for identifying and resolving any property dispute and are also an invaluable tool for local level planning.
2.1 Objectives of the Scheme
The scheme seeks to achieve the following objectives:
Creation of accurate land records for rural planning and reduce property related disputes.
To bring financial stability to the citizens in rural India by enabling them to use their property as a financial asset for taking loans and other financial benefits.
Determination of property tax, which would accrue to the GPs directly in States where it is devolved or else, add to the State exchequer.
Creation of Survey infrastructure and GIS maps that can be leveraged by any department for their use.
To support in preparation of better-quality Gram Panchayat Development Plan (GPDP) by making use of GIS maps.
2.2 Coverage
All villages in the country which will be eventually covered in this scheme. The entire work is likely to be spread over a period of five years from April 2020 to March 2025.
Pilot Phase of the Scheme implemented in FY 2020-21 covered States of Haryana, Karnataka, Madhya Pradesh, Maharashtra, Uttar Pradesh and Uttarakhand, Punjab, Rajasthan and Andhra Pradesh and CORS network establishment in States of Haryana, Punjab, Rajasthan and Madhya Pradesh.
2.3 Implementation Process Flow
The brief/broad level implementation process flow of the scheme is illustrated below: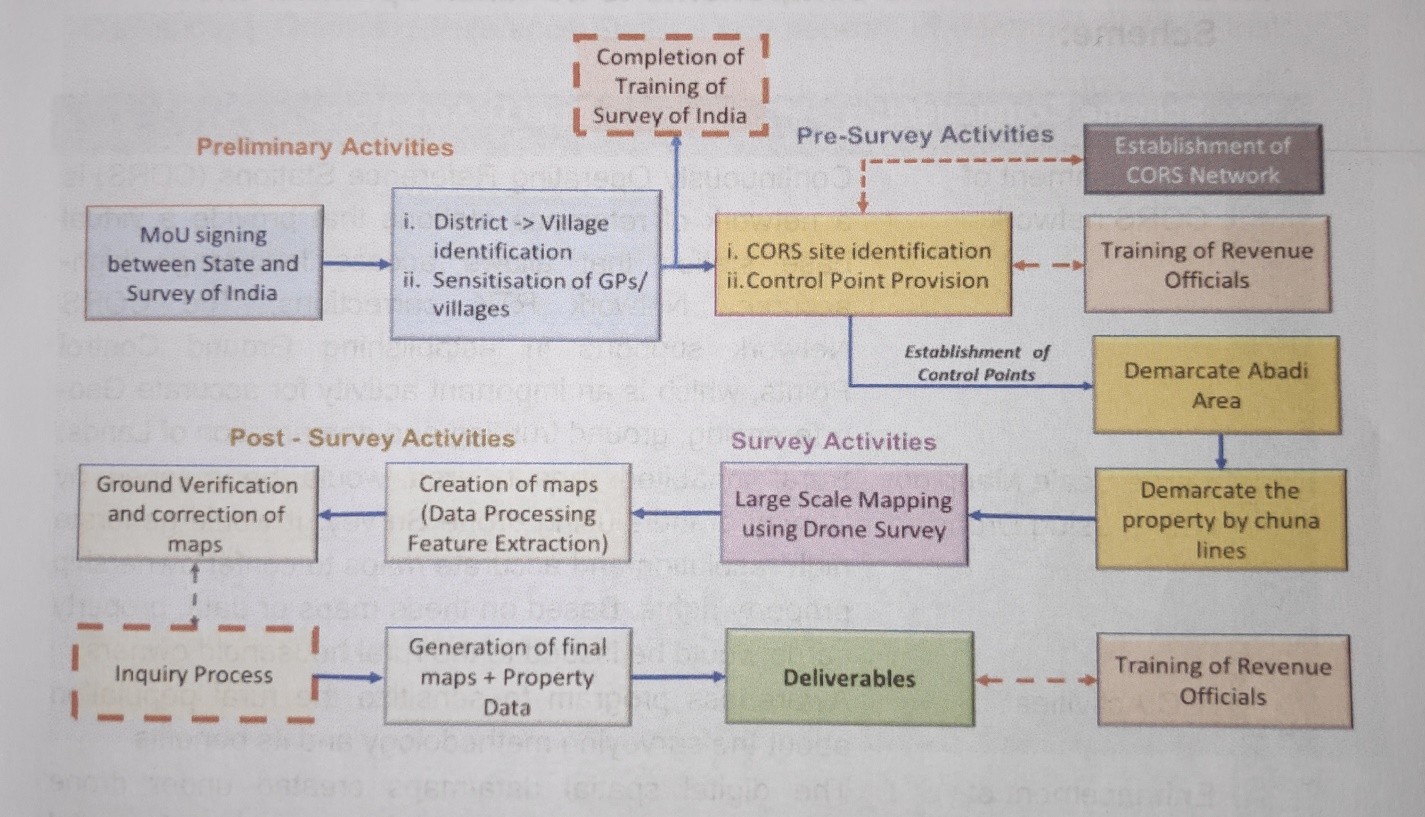 3.1 The main activities under the Scheme are:
Establishment of Continuous Operating Reference System

CORS is network of reference stations that provide a virtual base station that allows access long-range high-accuracy network RTK corrections with centimetre-level horizontal positioning in real-time. CORS network supports in accurate Geo-referencing, ground truthing and demarcation of lands.

Large Scale mapping using Drones

Rural inhabited (abadi) area would be mapped by Survey of India using drone Survey. It would generate high resolution and accurate maps to confer ownership property rights. Based on these maps or data, property cards would be issued to the rural household owners.

Awareness program to sensitize the rural population about the surveying methodology and its benefits.
Setting of Programme management unit at National and State level.
Development/Maintenance of Scheme Dashboard and integration of drone survey Spatial data/maps with Ministry's Spatial planning application to support in planning at local level.
Documentation of best practices/ conducting National and Regional workshops.
3.2 The following stakeholders would be involved in carrying out the scheme:
Nodal Ministry (Ministry of Panchayati Raj), Govt. of India.
Survey of India (Technology Implementation Agency)
State Revenue Department
State Panchayati Raj Department
Local district authorities
Property owner
Gram Panchayat (GP)
National Informatics Centre (NIC) – GIS Division
Other line departments having assets in Rural inhabited areas (if any) for preparing comprehensive database.
For monitoring purpose, a four-layer monitoring and evaluation framework shall be put in place for timely monitoring, reporting and course corrections (wherever necessary).
4.1 Target: The following are the number of targeted villages under SVAMITVA Scheme.
| | |
| --- | --- |
| Aizawl | 32 |
| Saitual | 30 |
| Lunglei | 74 |
| Champhai | 43 |
| Kolasib | 24 |
| Mamit | 61 |
| Serchhip | 26 |
| Hnahthial | 18 |
| Khawzawl | 23 |
| TOTAL | 331 villages |
| CADC | 88 villages |
| LADC | 102 villages |
| MADC | 77 villages |
4.2 Achievement:
District

No. of Villages

No. of IEC completed

No. of Drone Flying completed

Map Received

Ground
Truthing

Property Card
Distribution

Aizawl

32

32

32

10

1

0

Saitual

30

16

16

0

0

0

Lunglei

74

0

0

0

0

0

Champhai

43

0

0

0

0

0

Kolasib

24

0

0

0

0

0

Mamit

61

0

0

0

0

0

Serchhip

26

0

0

0

0

0

Hnahthial

18

0

0

0

0

0

Khawzawl

23

0

0

0

0

0
5. Survey of Vilages and Mapping With Improvised Technology in Vilage Areas (SVAMITVA)
April Ni 24, 2020 khan Prime Minister Pu Narendra Modi chuan he Scheme hi a hawnga. A tum ber chu India rama thingtlang khaw tamtak a thingtlang miten ram leh in te nei bawk mahse, heng te hi Bank lam in a an pawm theih document a awm loh avangin hralh, loan lakna atana dahkham leh compensation chungchang thlengin ram neituten an chanvo tur an chang phalo thin a. Ram dah khama loan la a eizawnna bul tan thar tur te tan pawh LSC neih loh avangin hmalak a harsa rih hle a ni. Heng harsatna te hi sukianga thingtlang miten an ram chu dinchhuah pui nan a an hman theih nan SVAMITVA Scheme chu Central sorkar chuan a duang ani
Mizoram ah Land Revenue & Settlement, Local Administration Department leh Rural Development Department tangkawpin an kal pui dawn ani. A scheme kalphungte chu :
Khawtina VC te leh in leh lo nei ten an ram chin chu chinai hmangin an ramri an lo chhinchhiah vek ang.
Survey of India in Survey Grade Drone Camera tha chi in vuah hmangin Khaw thla ala ang.
Heng Drone thlalak te hi CORS(Geo Referenceing System) nen thlun zawm an ni a. Ram dung leh vang bakah a GPS coordinates thlengin a chhinchhiah vek dawn a ni.
Heng thlalak te hi a takah finfiahna neih leh ani ang.
Survey of India in heng thlalak leh a kentel information zawng zawng hi State sawrkar kutah a hlan a nga.
Hemi hmang hian Land Revenue & Settlement Department chuan LSC tlukpui Property Card a siam a nga, ram neitute pek chhuah anni ang.
Property Card hian ram neitute an ram neihna dan mitah a nemnghet dawn a ni.
Property Card neitu chuan a ram chu a hralh, hawh tir leh loan lak nan a dah kham te a ti thei vek dawn a ni.
Khawtin map fiah tha em em mai hi khawtin VC te kutah hlan niin hei hi Khaw development plan siam nan a tangkai em em dawna - Lui kawr siam ngai, khelmual ziarang, lungrem tulna hmun, kawng zauh tulna hmun, etc.. te fiah taka a lan dawn avangin khaw hmasawnna tur ruahmmanna siam nan atang kai hle dawn ani. (Map atang hian heng zawng zawng measurement pawh hi a hriat vek theih dawn a ni). GPDP siam kawngah te, MGNREGA hnuaia plan siam nan te leh a dang dangah te a tangkai dawn hle a ni.
SPMRM scheme phei chu spatial planning hmanga siam vek tawh tur tih anih angin, he SVAMITVA Scheme hmanga thlalak te hi spatial plan siam nan a tangkai hle dawn ani.